I've had See Kate Sew's Zippy Top printed and ready to go for at least a month now, but I've been too busy to tape it together, cut it out, and actually make the thing. I also had some concerns about the overall shape and length, and wanted to do a test run before I cut into the navy lawn I've been saving for this.
I had some time yesterday morning, so I went for it. The pattern is quick to tape up—the pages don't overlap by much, so I didn't bother cutting off the margins (I did this for the Date Night Dress, and it was easily the most time consuming part of the whole project).
Kate includes a shorten/lengthen line, so I took the liberty of adding four inches. I've seen quite a few versions of the top online, and depending on the person, the hemline falls anywhere between "jeans waistband" and "just north of the hips." I like my tops a little longer, so I wanted to create some room to play.
Speaking of playing: I took this opportunity to experiment with "pattern weights." (Mr. Jones came home midway through and very gently asked why all of our beans and tomatoes were in the bedroom.)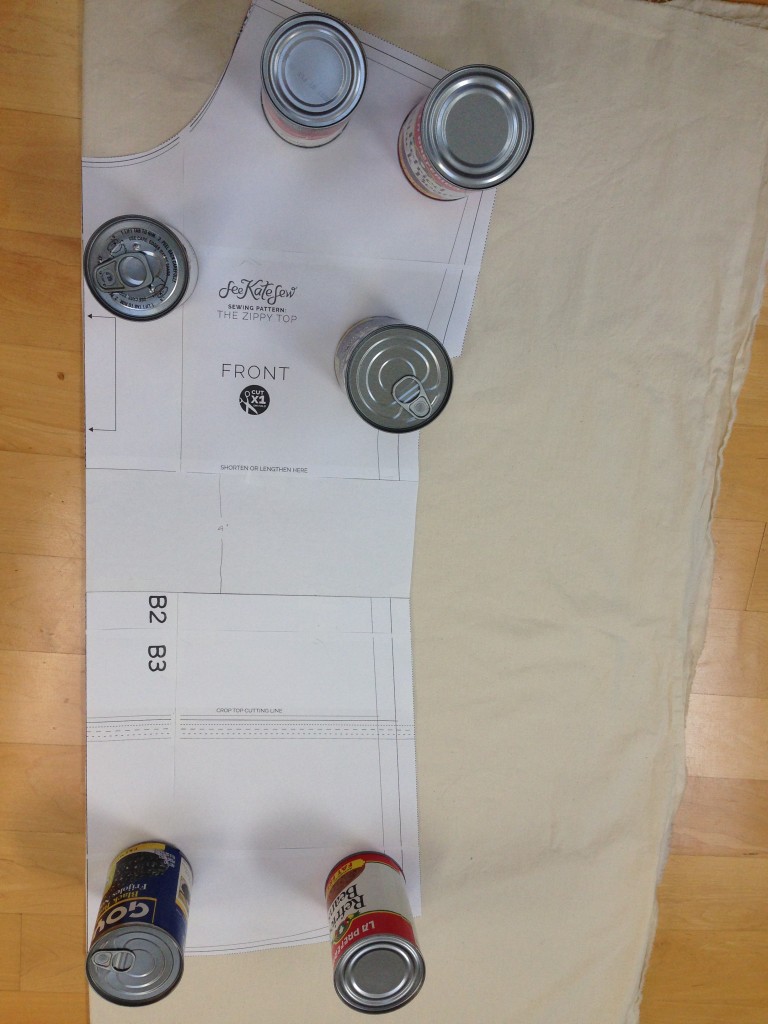 The top, as promised, is incredibly quick to put together, even if you (like me) use French seams (for fun!). It's also forgiving if, say, you (like me) read the 3/8″ seam allowance as 5/8″ and end up making everything a tiny bit smaller on accident (oops). I started taping the pattern together at around 9:30 and had a top in hand and ready to wear to the SoWa Open Market by 12:15, where I bravely wore it into Grey's Fabric & Notions and ended up evangelizing the pattern to the very friendly proprietor.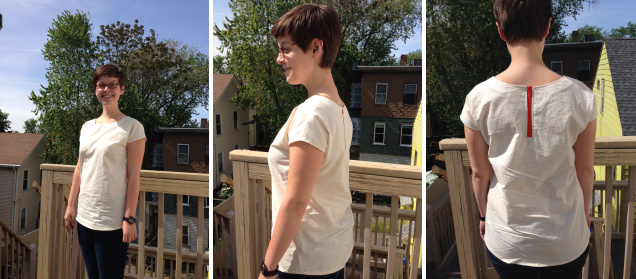 I used a speckled cream natural muslin I had laying around and a red-orange zipper from Zipit—the goal was only to test out the fit, but I ended up liking the combination enough to add this to my closet. Overall, it's a fairly simple top—I think I like the print versions I've seen better, and I might add a pocket or something to perk this up a bit. Lengthwise, adding 4″ put it at perfect tunic length for me, but the muslin felt a little too Little House on the Prairie for me at that length, so I decided at the last minute to cut around 3″ off. It hits me a tiny bit below my hip bones, which I like, so I'm planning to add an inch to future versions. I think adding this tiny bit of length reduces the potentially boxiness a bit (though the super lightweight fabric also helped), which for me is a bonus.
Verdict: wrinkly, but otherwise quite lovely!